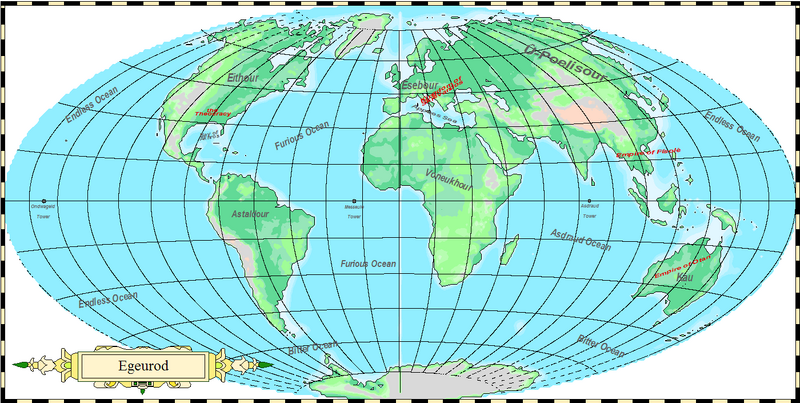 Oceans and Seas
Edit
To the surprise of many and disgust of some, there are four oceans and numerous seas and bays.
Endless Ocean
Edit
So named by the ancient mariners of Kau, who preferred the short hops by which one reached Físolè rather than the long, perilous across the Endless Ocean to Eithour and Astaldour.
Furious Ocean
Edit
No WIRE HANGERS! Ever!!
Bitter Ocean
Edit
Lives across the street from the Furious Ocean.
Asdraud Ocean
Edit
So named due to the influence of the chief potestate race, the asdraud. Their orbital tower is made fast to an artificial island in the Asdraud Ocean.
Appoes Sea
Edit
Between Esebour and Voneukhour.
Ozamod Sea
Edit
Lying between Kau and the Pobelaim Archipelago.
Land Masses
Edit
Just like huge tracts of land, only bigger and more smiley!
Continents
Edit
Moo!
Ice yer what?
Astaldour
Edit
Voneukhour
Edit
Û-Poelisour
Edit
Now ISO-999000 Certified Free of Egregious Wankers!
---
Ad blocker interference detected!
Wikia is a free-to-use site that makes money from advertising. We have a modified experience for viewers using ad blockers

Wikia is not accessible if you've made further modifications. Remove the custom ad blocker rule(s) and the page will load as expected.